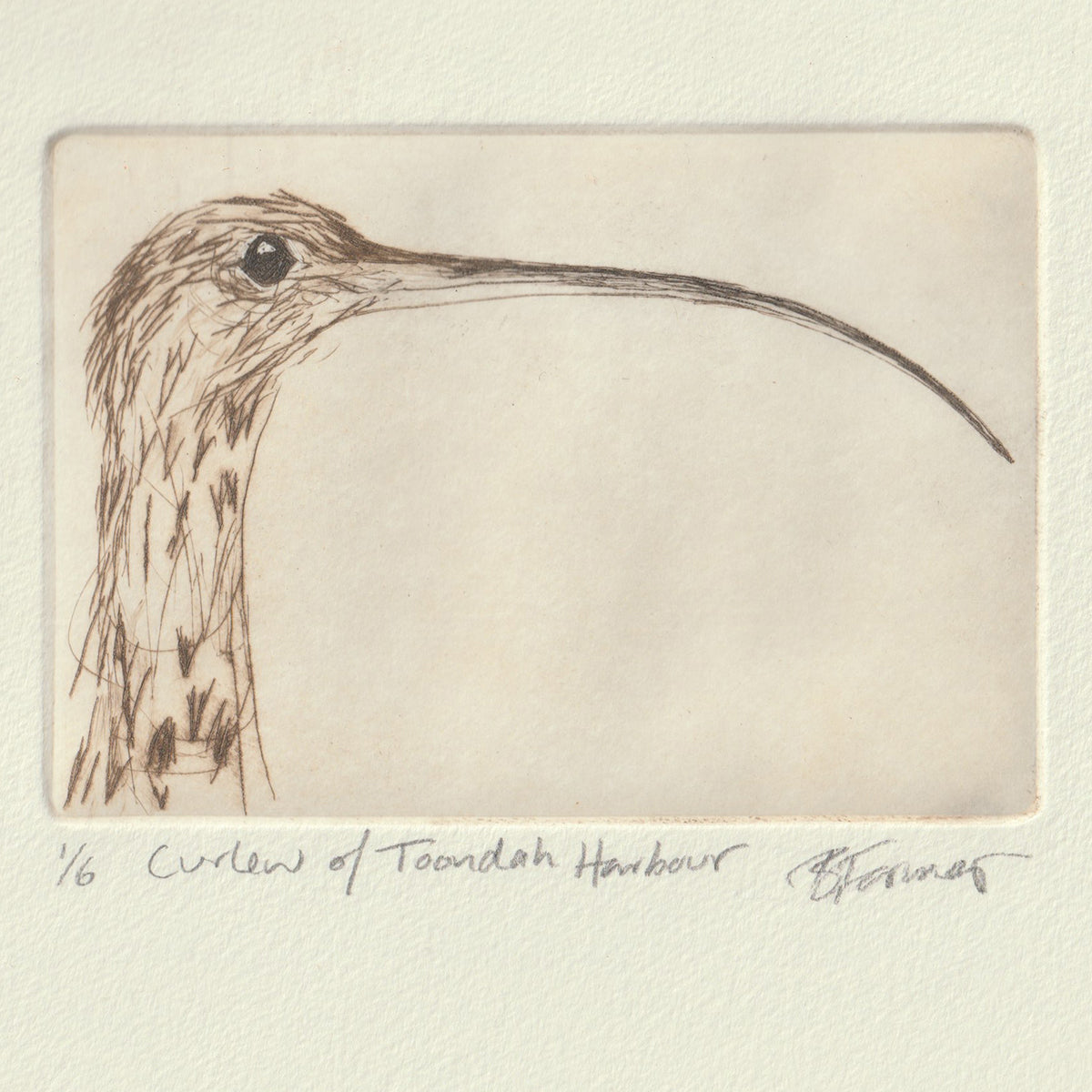 Original Etching - Curlew Of Toondah Harbour
I have made this piece in response to a call to artists to create an image of the eastern curlew and send it as a postcard to both Queensland and federal environment ministers in protest over the proposed development of Toondah Harbour. Read below for more details on this disregard for the protected Morton Bay marine santuary. I have made a small edition of only 6 of this image. $100 from the sale of each etching will be donated to BirdLife Australia who are working so hard to protect habitat for our endangered birds. 
This is a dry point etching.
image size - 12.5 x 9cm
paper size - 21.5 x 19.5cm
From an email about the Toondah Harbour appeal -
"The Toondah Harbour development is a proposed housing, hotel and marina development that, if allowed to go ahead, will drain, dredge and reclaim over 500,000 square metres (40 acres) of Moreton Bay's intertidal and marine environment, home to the Eastern Curlew, our most endangered shorebird, and a range of other vulnerable species including dugongs, whales and dolphins, and sea turtles. The development is in the final stages of an environmental impact assessment."


"Moreton Bay is an internationally significant wetland. It is a Marine Sanctuary, a Ramsar site, and the non-breeding habitat of many of our migratory shorebirds, including our most endangered migratory shorebird, the magnificent Eastern Curlew, whose population has declined by 80% over the last 30 years. Yet this has not stopped the government and developers proceeding with plans for the building of 3,600 homes and a 200-berth marina."

"The world will be watching to see how we as Australians honour and care for our environment and show our respect for the value of our international treaties."