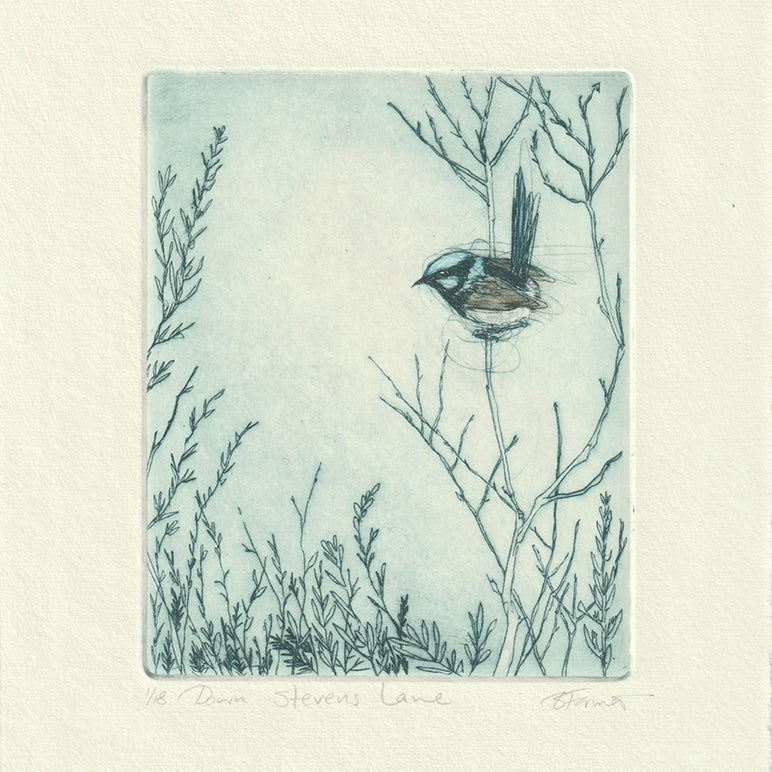 Original Etching - Down Stevens Lane
I met this little superb fairywren down Stevens Lane a few months ago. Stevens Lane is a delightful laneway that runs round the back of our little town of Guildford in country Victoria. It is all bushy and I like to go birding there!

It is an original dry point etching, inked up by hand and pulled through my printing press on Hahnemulhe rag paper. Colour is added to the plate during the inking up process. Each print in the edition has to be inked up individually therefore variation may occur. For videos and more info on how I make my etchings see my instagram or TikTok feeds. https://www.instagram.com/bridgetfarmerprintmaker/ 
This item has free express shipping within Australia. Also available outside of Australia but shipping fees apply. 
This etching is sold unframed and unmatted. Please note, the edition number you will receive will not necessarily be the one pictured. 
 Measurements
Image Size - 15.3 x 12.4cm
Paper Size - 24 x 19.5 cm
Edition Size - 18